At EZY 2 LEARN Driving School, we specialise in providing structured driving lessons using a revolutionary approach. Our driving lesson compiles of unique methods in teaching the EZY 2 LEARN Safe driving approach to all our learner drivers where they learn to drive with confidence and become safe drivers on the road for their life-long journey.
A NEW WAY TO LEARN DRIVING UNDER THE GUIDANCE OF ACCREDITED INSTRUCTOR
EZY 2 LEARN offers a new and exciting way to learn where the training is carefully planned, expertly delivered and combined with modern driving techniques which is both effective and enjoyable. Kevin is very experienced and one of the best trained instructor in Sydney. He is the founder of EZY 2 LEARN Driving School. He is accredited for KEYS2DRIVE FREE LESSONS. He is also qualified for SAFER DRIVERS COURSE FACILITATOR AND COACH FOR ALL SYDNEY SUBURBS. Previously he was working with one of the best and multi award winning driving school in Sydney as well as he was the instructor of the year in 2018 from that driving school.
Simply you will be learning with the best in the driving instructor industry. Also he is very skilled in dealing with many nervous learners and aged people, he has taught them to drive with confidence and they all have passed their driving test with flying colours and now driving on the road confidently.
LEARN QUICK DRIVING WITH MODERN 5 STAR ANCAP- RATING CAR
In our award-winning driving school, we offer 100% satisfaction guarantee to all our students with a customized structured lesson catered for each individual, where the learning experience is very simple and easy. No hard work, no surprises and no time wasted! You will have the privilege of learning to drive a modern 5 star ANCAP rating small car with dual control and easy to operate far more quickly than a normal time frame.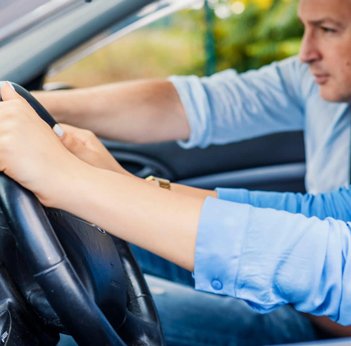 WE PREPARE YOU TO BECOME SAFE & RESPONSIBLE DRIVER
At our award-winning driving school, we provide the best theory and practice driving sessions and driving test preparation for all of our students. Our motto is to ensure every individual becomes a safe and responsible driver and they can drive with confidence for life.Please look no further and discover the differences; first-go-pass-guarantee, higher pass rate, save money and give yourself the best possible start to a lifetime of safe driving. We are currently providing lessons in LIVERPOOL, BANKSTOWN, ST GEORGE and CAMPBELLTOWN AREA.
Give yourself wings and hit the road with full confidence!!!!
1-hour driving lesson equals to 3 hours in your logbook.
First 10- hours driving lessons with the RMS accredited driving instructor equals to 30 hours in each learner driver's logbook.
Qualifications:
I am a highly skilled, friendly, calm and patient, fully qualified and RMS accredited driving instructor.
"Learn with confidence, as all nervous and anxious learner drivers are our main priority."
I can teach all nervous and anxious learner drivers on Sydney's busy modern roads and make them confident and safe drivers all lifelong.
Our RMS accredited and professional and qualified driving instructor's qualification below:
Certificate IV Driving Instruction
Certificate IV In Training and assessment
KEYS2DRIVE accredited FREE LESSON for each learner (federal government funded)
Safer Drivers Course Facilitator Module 1
Safer Drivers Course Coach Module 2
Working with Children's Check
Driving instructor Trainer and assessor for (new RMS accredited driving instructor)
EZY 2 LEARN Driving School is the most trusted, reputable and award-winning driving school which offers high quality driving lessons. Our driving lesson packages are good value for money with the most competitive prices available. We have a real passion for delivering quality, professional and individually catered driving lessons for each learner. Our driver's training helps you get ready to successfully pass the RMS driving test on the first attempt. We provide the best professional driving lessons in the St George, Canterbury, Inner-West, Bankstown, Liverpool and Campbelltown areas in Sydney. Learn to drive with a highly skilled, experienced and RMS qualified driving instructor today! Book online www.ezy2learndrivingschool.com.au or call 0405 477 217.
Our focus is to ensure each of our drivers become a confident and safe driver all lifelong with zero harm or crashes
For example, our RMS qualified and highly experienced driving instructor will teach you not only how to drive a car properly, but you will also learn low risk driving techniques and strategies.
Car details. Our small car is less than 4-years-old has dual control and 5-star ANCAP safety features.
Guarantee. First go guarantee at RMS driving test.
We offer affordable and competitive driving lesson prices and packages including night driving.
Our structured planned driving lesson includes the criteria you must fulfil and meet, the skills are necessary to be a confident and safe driver for a lifelong journey. Also successfully pass the RMS driving test at first go. Our driving lessons are catered or tailored for Novice learners with zero experience, right through intermediate and advanced learners within minimal hours.
Depending on your experience level, each driving lesson can include:
Preparing to drive
Vehicle control
Moving off and stopping
Steering techniques
Speed management
Reverse parallel parking
45-degree and 90-degree angle parking
Roundabouts
Simple traffic
Complex traffic
Road positioning
Bad weather conditions including rainy, bright sunny and stormy weather conditions
Turning at intersections
Decision making
Low risk driving habits and strategies
Discuss how to handle critical scenarios and conditions on busy roads
Crash avoidance space (CAS – 3 seconds safe gap)
Turning and driving on busy road
Maintaining a safe following distance
Hazard perception
Driving test preparation
Our Awards
EZY 2 LEARN is a Finalist in the 2021 Liverpool City Local Business Awards!
WINNER OF 2021 AUSTRALIAN ENTERPRISE AWARDS.
"BEST DRIVING EDUCATION PROVIDER – SYDNEY"
We provide our services to the selected locations